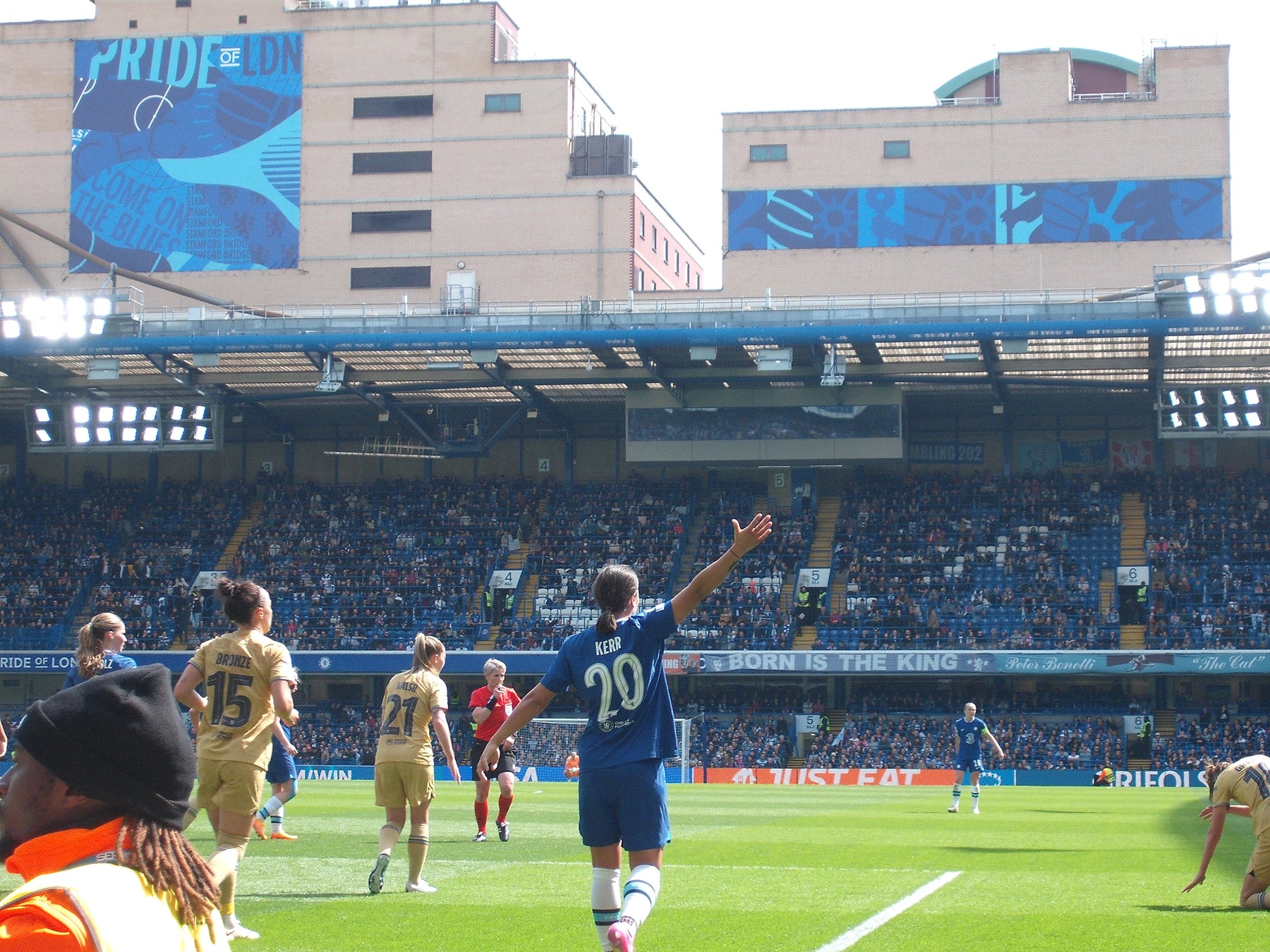 22.04.23 The Race to Eindhoven
22.04.2023. 8:36am train to London. Kick off 12:30pm. Go onnnn then. 
We headed down to Stamford Bridge this weekend on a bid to watch Chelsea play Barcelona in the first leg of the UWCL Semis. Tiki Taka vs shin kicking football. Classic Saturday morning for any football fan.
With Barcelona's 4-0 UWCL win in 2021 against Chelsea still in the back of the crowd's mind, it's an intimidating game for any Chelsea fan- we'd look on the bright side and see it as an opportunity for redemption.
Caroline Graham Hansen's long range strike in the first 4 minutes of the game could've been enough to knock the confidence of Hayes' team, but we all know it's not that easy. Still, it seems pretty unanimous that Hansen's player of the match recognition was more than deserved. Solid start.


There seemed to have been an equalizer for a split second, Kerr and Reiten's work, but that buzz seemed quickly shattered once the offside flag reared its face. That's life.
For the remainder of the match, we think it's fair to say it could've been anyone's, with Chelsea's defense putting a halt to any potential for Barcelona to widen the score gap. Definitely an edge of your seat, will they-won't they kind of vibe. 
Personal highlights include the absolute buzz around us with Chelsea's Lauren James entering the field in the second half. Little echoes of awe passing round the stands whenever she approaches the ball, you just know she's going to do something good to be honest.

Watching Paralluelo and Oshoala on the pitch hasn't disappointed so far, and this solidified that. Machines just about sums it up. Unstoppable.
With Bronze subbed off due to a what seemed to be a leg injury, it's hard not to immediately feel that pang of fear in response to the growing number of ACL injuries within the women's game, with not much seeming to be done about them. 
Giráldez announced the good news that it wasn't serious, but the severity and regularity of injuries is hard not to focus on.
Finishing at 0-1 to Barcelona, overall we'd consider it a solid Saturday out, and it's left us impatient for the final. 
The race to Eindhoven is heating up.